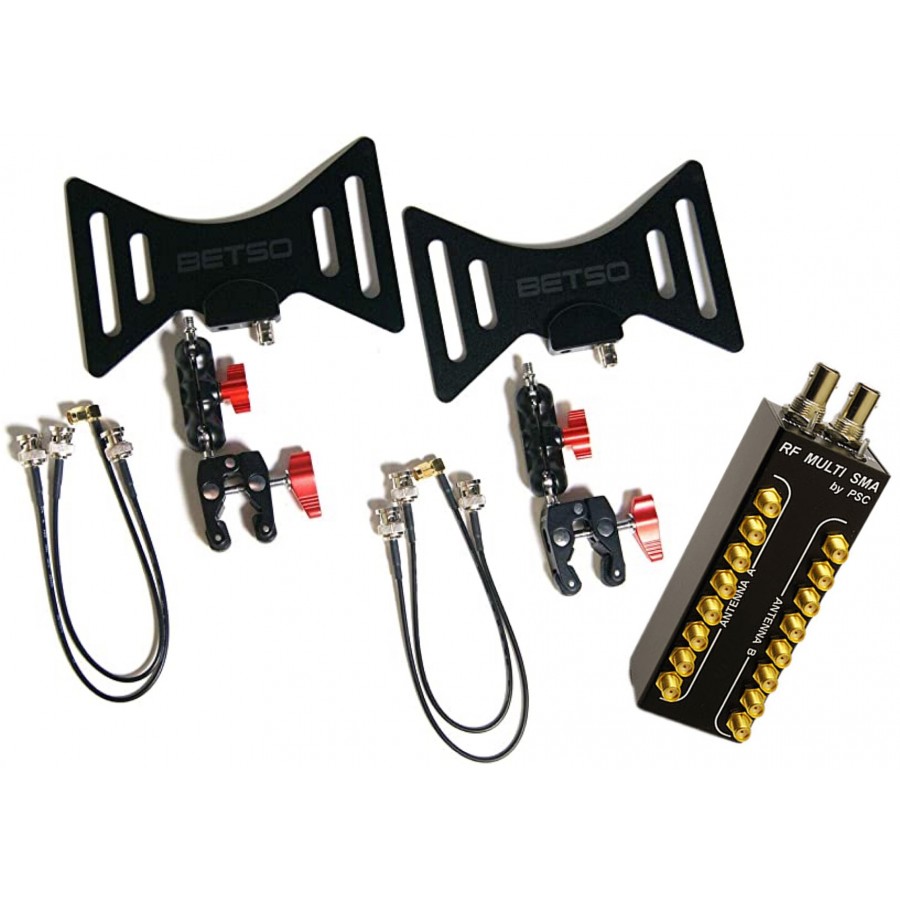 2x BETSO BOWTIES
The BOWTIE is a compact wideband antenna which has been designed for use on a sound bag. It's bandwidth 470-700 MHz, omnidirectional polar pattern (in a horizontal plane) and inbuilt 700 MHz low pass filter deliver flawless performance in a today's disturbed RF environment.
Rock solid and IP65 sealed mechanical construction guarantees careless functionality both in indoor and outdoor locations. Every BOWTIE is delivered as a complete package including also special bag antenna holder, short BNC-BNC and BNC-SMA(RA) cable.
Antenna type: Passive
Frequency range: 470 MHz to 700 MHz
Inbuilt filter: low pass 700 MHz
Antenna structure gain: 1.8 dBi (@ 600 MHz)
Antenna directivity: as a dipole
Antenna polarization: Linear
Antenna VSWR: Excellent < 1.2 (@ 600 MHz)
Mechanic construction: CNC milled, anodized aluminium alloy and glass-reinforced epoxy laminate
Mounting: 1/4" thread
Dimensions (h x w x d):170 x 111 x 14 mm (6.7" x 4.4" x 0.55")
Weight approx: 76 g (0.2 lb.) without holder and cable
1x PSC RF MULTI SMA
Operates from 470 to 870 Mhz
Two (2) 1 into 8 active splitters
Provides remote antenna powering
Powered from external 10-15 Vdc
The new PSC RF MULTI SMA contains two, separate, active 1 x 8 RF splitters for use with up to eight diversity receivers. This compact, rugged device was designed using the latest super low noise amplifiers and will operate over an extended frequency range of 470 to 870 Mhz. Its two inputs are traditional BNC connectors for ease of use in interfacing with your external antennas. Each of the outputs offers a typical isolation factor of 24 to 28dB between radio receivers. The PSC RF MULTI SMA also has the ability to power external powered antennas or remote line amplifiers. There are two top panel mounted switches. One controls overall power and the second switch provides remote antenna power when needed. Both switches light up when in use. This unit is powered from any external DC source of 10 to 15Vdc via the bottom panel mounted 4 pin Hirose connector. A sturdy belt clip is included for ENG bag use.
PACK Betso Bowties and PSC RF Multi SMA (Rental)