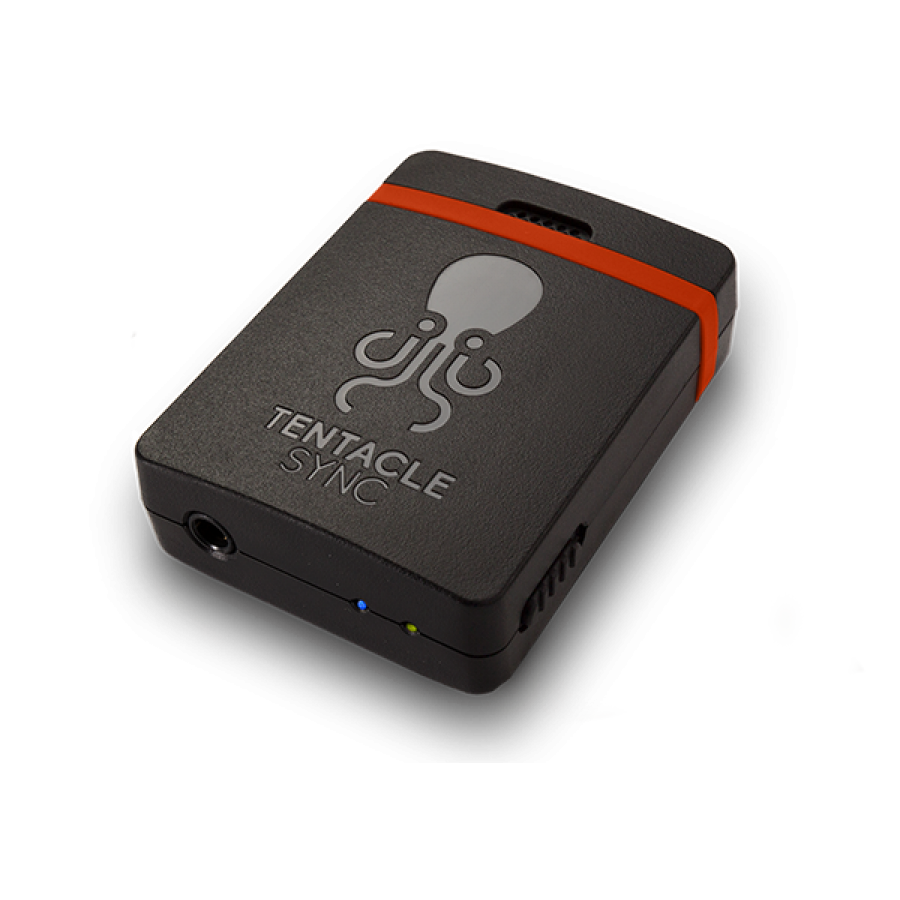 THE NEW WAY OF SYNC
Tentacle Sync E is built on the idea of providing you with an easy to operate and reliable timecode and sync tool that works in nearly any kind of setting. No matter how small or complex your shooting challenge is, the Tentacle Sync E is the right companion for your creative task. Spend less time thinking about setting everything up and spend more time on what you do best: being creative.
SYNC OVER BLUETOOTH – YES IT WORKS!
Some of you might be thinking: why Bluetooth? The answer is simple: Most of our customers don't leave home without their phones or tablet and Bluetooth is the most common and widely-used wireless technology used by almost all of them. The solution for cable-free operation is right in front of you: in the palm of your hands.
Battery. Sync E uses Bluetooth low energy. This means, your Sync E offers a battery life of up to 35 hours – no matter if you use it for setup, syncing or monitoring your devices.
Connectivity. Forget the old phone/car radio connectivity problems. With Bluetooth LE you simply hold your phone close to your Tentacle Sync E to link it with your app.
SYNCING DEVICE FOR ANY VIDEO SHOOTING
Monitoring. Tentacles don't have a built-in display – and that's just how we like it. The best user-interface is your phone. Use it to monitor and setup your Tentacle Sync E with a frame-accurate timecode display, without the need for any additional expensive equipment.
Accuracy. Tentacle's sync algorithms allow you to monitor your Octopodes with frame accuracy via the Tentacle Sync app.
Future-proof. Every Tentacle acts as a master and broadcasts timecode independently via Bluetooth. Almost every mobile device can make use of this timecode, opening up a whole world of seamless connectivity sync network without needing any new technology – straight out of the box.
FEATURES
- Timecode Sync, Setup and Monitoring over Bluetooth (iOS & Android)
- Can act as Master Clock or Jam-Sync to any External Timecode Source
- Lockable Connector with the included "Tentacle Clamp"
- Built-in Rechargeable and Replaceable Lithium Polymer Battery
- Accurate with a Drift of less than 1 Frame within 24 Hours
- Runtime up to 35 Hours, Fast Charging via USB-C
- High-Quality Built-in Microphone
- Switchable Mic/Line Output
- Uses LTC Timecode according to SMPTE-12M Standard
- SMPTE Timecode Rates: 23.98, 24, 25, 29.97, 29.97DF and 30 FPS
- Integrated Hook Surface for Easy Mounting
- Super Small (38 x 50 x 15 mm) and Lightweight (30 g / 1 oz)
- 2 Year Manufacturer's Warranty
- Designed and Made with Love in Cologne, Germany
TENTACLE SYNC E