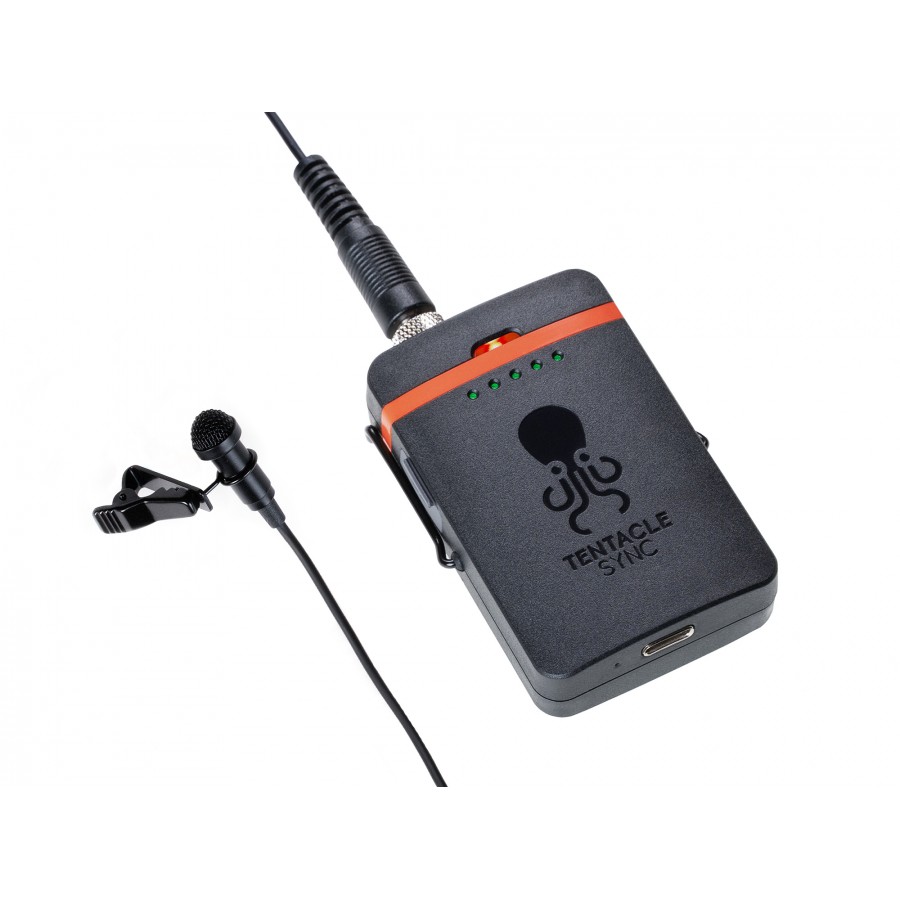 *The price for Rental Items is for one day, please email (info@soundonseteurope.com) or call us (910 852 404) for rental inquiries.

TR1 - Tentacle TRACK E - Timecode Audio Recorder Key Features

• 32-bit Float Recording / 24-Bit Recording
• Control Multiple Devices via Bluetooth® (iOS & Android)
• Wireless Timecode Sync (Bluetooth®) / Jam-Sync via Cable
• Up to 10 hours Operating Time
• General Purpose Lavalier Microphone with Clip and Windscreen included • 16GB microSD Card included
• 2 Year Limited Warranty
• Designed and Manufactured in Germany
Technical Specifications
Recording
Number of Tracks: Sampling Rate: Recording Bit-Depth: Recording File Formats: Recording Time: Storage Media:
Signal Processing:
Connectivity
Microphone Input: Mic Plug-In Power: Headphone Output*: USB Connection: USB Modes:
Performance
Frequency Response: Gain Range:
Dynamic Range: THD+N:
Control & Sync
Bluetooth®: Remote Control: Synchronization: Timecode Input: Timecode Output: Frame Rates:
Power
Power Source:
Battery Capacity: Battery Operation Time: Battery Charging Time:
Mounting:
Weight: Dimensions:
1
48 kHz
32-bit Float / 24-bit
WAV (BWF)
30hrs (24-bit) / 23hrs (32-bit Float) with 16GB Card microSDHC Card up to 32GB (Recommended Class 10) Low Cut Filter, Limiter (24-bit only)
3.5mm Jack (screw lock)
5 V (switchable)
3.5mm Jack
USB-C (USB 2.0)
Charging, Card Reader, Firmware Update
20 Hz - 20 kHz +6 to +46 dB 110dB typ
≤ -85 dB (0,05%)
5.0
Tentacle Setup App (iOS/Android)
Via Bluetooth® (Tentacle Setup App) or Jam-Sync via Cable LTC via Mic In
N/A
SMPTE 12M / 23.98, 24, 25, 29.97, 29.97DF, 30
Built-in rechargeable Lithium Polymer Battery 900 mAh
approx. 10 Hours
max. 2 Hours
Belt Clip (removable) - Black Powder-Coated Stainless Steel
58 g / 2.1 oz
47 x 68 x 19 mm / 1.85 x 2.67 x 0.74 inches
*US Version: Headphone output is deactivated during recording.
1x Tentacle TRACK E Timecode Audio Recorder
1x General Purpose Lavalier Microphone with 3.5mm Lockable Connector
- Mic Clip
- Windjammer (black) - Mini Pouch
1x 16GB microSDHC Card 1x USB-A to USB-C Cable 1x USB-C to USB-C Cable 1x Belt Clip
1x Zipper Bag
5x Coloured Silicone Bands
2x Stickers
1x Software License for Tentacle Sync Studio (macOS)
Package Weight: Package Size (LxWxH): GTIN:
SKU:
Description
250g
170 x 115 x 60 mm 4260452430053 TR1
The TRACK E Timecode Audio Recorder is nearly as small as the Timecode Sync Generator SYNC E, so it can easily fit in your pocket for recording on the go. This allows mobile operation for example as a recorder for a clip-on microphone eliminating the need for a radio-link. It offers timecode synchronization over Bluetooth® based on the well established Tentacle Sync technology. This means that the TRACK E will work in environments where regular wireless transmitter fail.
Controllable through the Setup App for iOS or Android, it seamless integrates into the SYNC E synchronization network by the push of a button via Bluetooth®. But the TRACK E does not necessarily need a SYNC E device to operate – it can easily function as a stand-alone device and can be jam-synced via cable.
In addition to the ability to record with 24-bit depth, TRACK E also features 32-bit floating point technology for a significantly extended dynamic range. 32 bit floating point also means that no digital clipping will occur, making the TRACK E a versatile set-&-forget-device that will always deliver high quality audio. With the TRACK E users can treat audio in a similar way as photographers use the RAW camera photo format – all details can be adjusted in post production, significantly reducing the preparation time before you start shooting.
The TRACK E uses a changeable SD card for recording the audio. An input limiter and a high- pass filter guarantee for pristine recording quality. A screwable mini jack connector offers maximum security for connecting microphones. The TRACK E features plugin power for supporting a wide range of microphones. A free license of Tentacle Sync Studio (Mac) is included with every TRACK E purchase.
http://tentaclesync.com/track-e
PROFESSIONAL SOUND RECORDING.FOR EVERYONE.
Are you a musician having a live jam on the street, a professional sound mixer or a documentary filmmaker who can't afford to miss the perfect shot? Or perhaps you're an upcoming podcaster, a dedicated YouTuber or a traveling journalist: Whatever your project, record it professionally and easily with the TRACK E audio recorder.
EASY INTEGRATION INTO YOUR WORKFLOW. ONE APP. COUNTLESS POSSIBILITIES.
Our Tentacle Setup App – which remotely controls everything except the weather – helps you enjoy seamless integration into your current workflow. Setup and control all your TRACK E and SYNC E devices via Bluetooth® on your mobile device. One screen. All the information you need.
EVERYTHING YOU NEED TO GET STARTED. STRAIGHT OUT OF THE BOX.
Unbox your TRACK E and you can be ready to go in just three minutes. Here's what you get: One pocked-sized TRACK E audio recorder, a multi-purpose lavalier microphone and a 16GB microSD card. The lockable mic input is compatible with any lavalier mic, that you might already call your own. Monitor and playback your recordings via headphone out, charge your unit and transmit your data through the USB-C port really fast. It even comes with a funky black belt clip to free up your hands while recording.
32-BIT FLOATING-POINT TECHNOLOGY. HIT RECORD AND START CREATING.
Say goodbye to leveling and digital clipping. The TRACK E with its significantly enhanced dynamic range is a versatile, set-&-forget device that always delivers high quality audio. Users can treat audio like photographers use the RAW camera photo format. You don't need to worry about the gain of the recorded audio. All details can simply be adjusted in post-production, significantly reducing pre-shoot preparation time. Recorded too low? Simply raise the volume without raising the noise floor.
100% LAVALIER MICROPHONE COMPATIBILITY. JUST CLIP AND GO.
The TRACK E comes packed with its very own broadcast-ready lavalier microphone. Yet if you still prefer to use your own mics, you can – we also offer a range of suitable adapters to give you the flexibility you're looking for. The microphone plugin power is adjustable up to 6 volts.
INDEPENDENT MULTI TRACK RECORDING.THE ONLY LIMIT IS YOUR CREATIVITY.
One TRACK E = one track. Now you can record as many audio tracks as you like. Simply sync all of your TRACK Es to create your own multitrack recordings from the individual mono tracks. Then just drop the synced audio into your editing system or prepare for further post-production with Tentacle Sync Studio – we include a free license with every TRACK E purchase.
WORLD-RENOWNED SOFTWARE. SIMPLE SYNCHRONIZATION. PERFECT PROCESSING.
Our well-known and loved Tentacle Sync Studio software (for Mac) ensures seamless synchronization at all times. It also comes packed with tools to help you with the 32-bit and audio processing. In combination with your SYNC E and TRACK E, you now have a seamless and professional audio and video workflow. It's time to get creative.
10 HOURS RECORDING TIME.FOR THE LONGEST DAYS. AND NIGHTS.
With at least 10 hours recording time, the long battery life will be by your side on the longest of shoots. And if you should find the battery running low, the TRACK E's super fast charge will ensure the boost you need to finish the working day.
TENTACLE TRACK E (RENTAL)