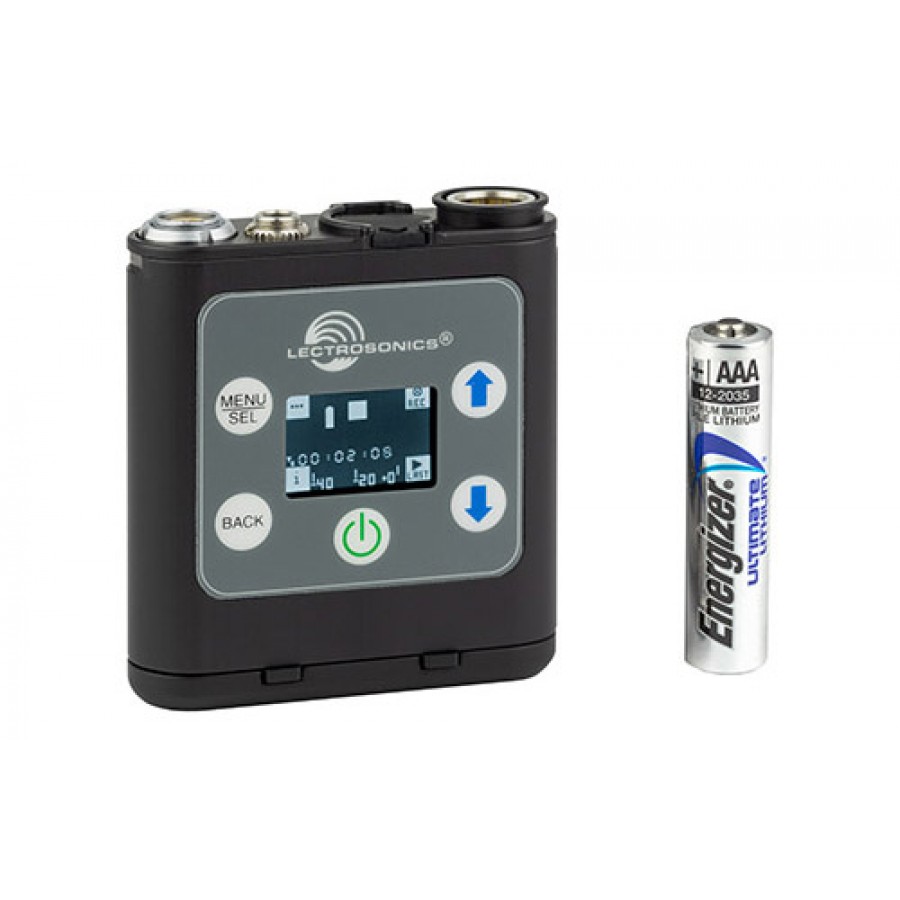 *The price for Rental Items is for one day, please email (info@soundonseteurope.com) or call us (910 852 404) for rental inquiries.

The Lectrosonics PDR (Personal Digital Recorder) is designed to record audio with time code in circumstances where a traditional full sized recorder or wireless system is impractical, such as extreme sports, public events, or complicated documentary or reality shows. The recorder is lightweight, unobtrusive, and easily hidden in clothes or as a plant mic. An M152/5P Lavalier is included so you have everything you'll need right out of the box.
The PDR provides a headphone output for monitoring or file review or can be set as a line level output to cascade to a transmitter via the MC70 adapter cable. It can also be tethered to a camera; the headphone output doubles as a line output to feed the AV input.

The BWF (.wav) file formatted audio tracks include time code data for easy synchronization. There are two recording modes: HD Mono records the audio in a single file; Split Gain records two different channels in the file, one at the normal level and another at -18 dB as a safety track.
The input connector is the industry standard TA5M jack that accepts any mic or line level signal, and provides bias voltage to power a wide variety of electret lavalier microphones. The input connection and wiring is compatible with microphones pre-wired for "compatible" and "servo bias" configurations to feed 5-pin inputs on Lectrosonics wireless microphone transmitters.
Setup and adjustment is made through an intuitive interface provided by the keypad and LCD. In keeping with typical Lectrosonics mechanical designs, the housing is machined from a solid aluminum billet for the ruggedness needed in field production.
| | |
| --- | --- |
| Storage Media | Micro SD (HC type) |
| File Format | .wav files (BWF) |
| Analog-digital Converter | 24-bit |
| Sampling Rate | 48 kHz |
| Recording Mode Bit Rates | |
| HD Mono Mode | 192 kHz |
| Split Gain Mode | 384 kHz |
| Input Type | Analog mic/line level compatible; servo bias preamp for 2V and 4V lavalier microphones |
| Input Level | Dynamic mic: 0.5 mV to 50 mV; Electret mic: TBD, Line level: 17 mV to 1.7 V |
| Input Connector | TA5M 5-pin male |
| Headphone-line Output | |
| Connector | 3.5 mm mini jack; TRS |
| Maximum Level | -3 dBu (575 mV RMS) |
| Audio Performance | |
| Frequency Response | 20 Hz to 20 kHz; +0.5/-1.5 dB |
| Signal To Noise Ratio | HD mono mode: 105 dB A-weighted; Split gain mode: 80 dB A-weighted |
| Distortion | < 0.035% |
| Time Code Connector | 5-pin LEMO |
| Signal Voltage | 0.5 Vp-p to 5Vp-p |
| Input Impedance | 10 k Ohms |
| Format | SMPTE 12M - 1999 compliant |
| Battery | |
| Power Consumption | 300 mW |
| Battery Type | AAA; Lithium non-rechargeable recommended |
| Battery Life | AAA Lithium 6.5 hours typical; AAA alkaline 2 to 3 hours (varies with brand) |
| Operating Temperature Range | |
| Celsius | -20 to 50 |
| Fahrenheit | -4 to 122 |
| Dimensions | 2.37"H x 2.14"W x 0.67"D (60mmH x 54mmW x 17mmD) |
| Weight | 71 grams (2.5 ozs.) with AAA Lithium battery |
LECTROSONICS PDR Digital Recorder (Rental)