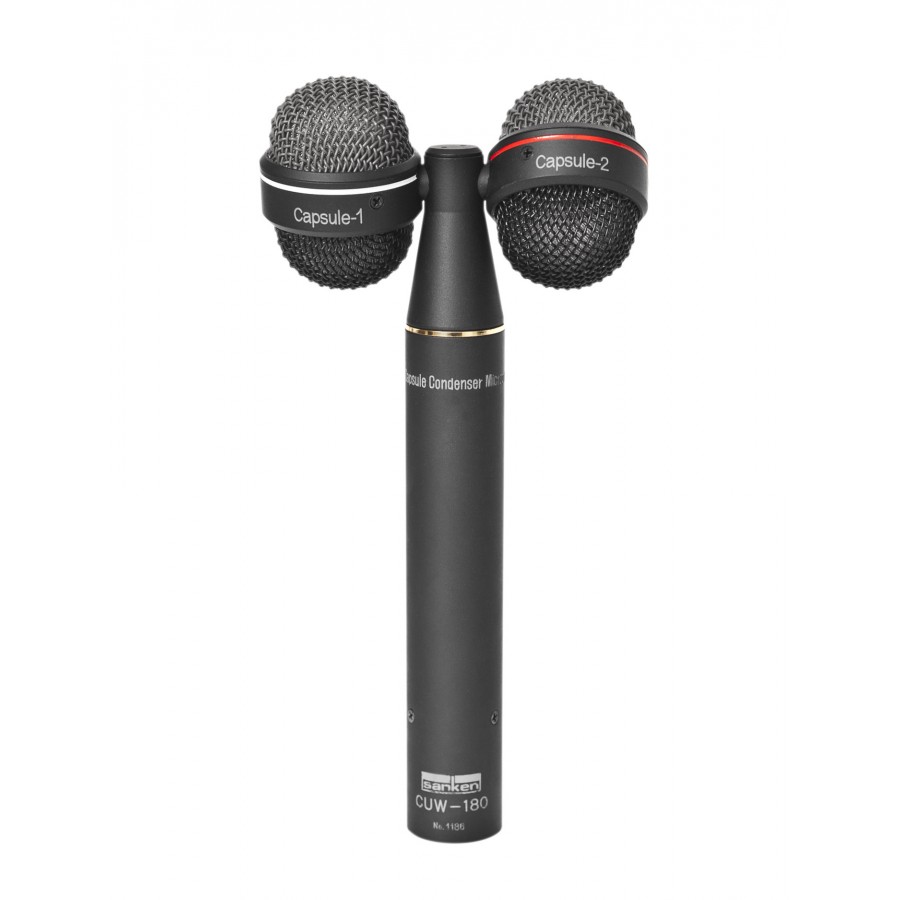 The Sanken CUW-180 is based on XY stereo recording. It has two (2) condenser type capsules, each with cardioid directivity, which can be independently and freely adjusted to any angle up to 180º with 15º of distension. This feature is unique and provides the easiest and most direct method of adjusting XY recording angles. The closeness of the pair of capsules allows a perfect phase coherence between the X and Y signals.
Some of the important applications in which this microphone can be used are:
. conceptually simple method of recording left and right, front and rear signals,
in dual XY mode recordings,
. Face-to-face interviews, like a two-way design, but with totally independent control
of each available signal via a standard AES configuration with XLR-5-pin male connector,
. On-camera microphone, application in which the adjustable angle feature is very advantageous.
* The advantage of X-Y stereo microphone
Two capsules have the same sound wave arrival time because the capsules are designed on the same vertical axis regardless of angle.
Therefore, the phase shift does not occur between L and R at any angle.
The method of establishing using an X-Y stereo microphone for L and R, one for LS and RS, is called the "Double X-Y Method".
Because the L and R phases (LS and RS) are the same, natural sound can be obtained.
There is a distance of about 21 cm between the front and rear CUW-180 capsules.
Makes the feeling of rear-front space when sounds are monitored by speakers.
This distance is almost equal to the distance between microphones of the IRT Cross method.
* How to create a surround system with 2 CUW-180 and a CS-1 gun:
The method of setting up a surround system is to mount two CUW-180s and one CS-1 snug on one bracket or suspension.
The purpose of the CS-1 microphone is to ensure independence of the center channel and to minimize overlap of L and R.
The characteristic of the CUW-180 surround system is to maintain the natural continuity of five channels without dead spots and the precise location of sound images.
Specs:
Cardioid directivity
DC polarized capacitor transducer
Frequency range 20Hz - 20kHz
Sensitivity (Nominal at 1kHz) 28.2 mV / Pa (-31dB, 0dB = 1V / Pa)
Equivalent noise level (Weighted A) 17dB-A
Maximum SPL (1% THD) 137dB SPL
Output impedance A 1KHz 180 ohms
Power + 48 ± 4V phantom X 2ch
Current consumption Less than 1.5mA / ch
Weight 224 g
Dimensions 160.6mm x 78.7mm, 20.5mm (Grip Diameter)
Matte black surface finish
XLR-5M connector
Accessories included:
Included Accessories01 SC-532 / 1.8 Cable
Included Accessories02 H-21F Microphone Stand
Included accessories 03 data measurement sheet
Included accessories 04 warranty card
Included Accessories05 Vinyl Case
Sanken CUW-180