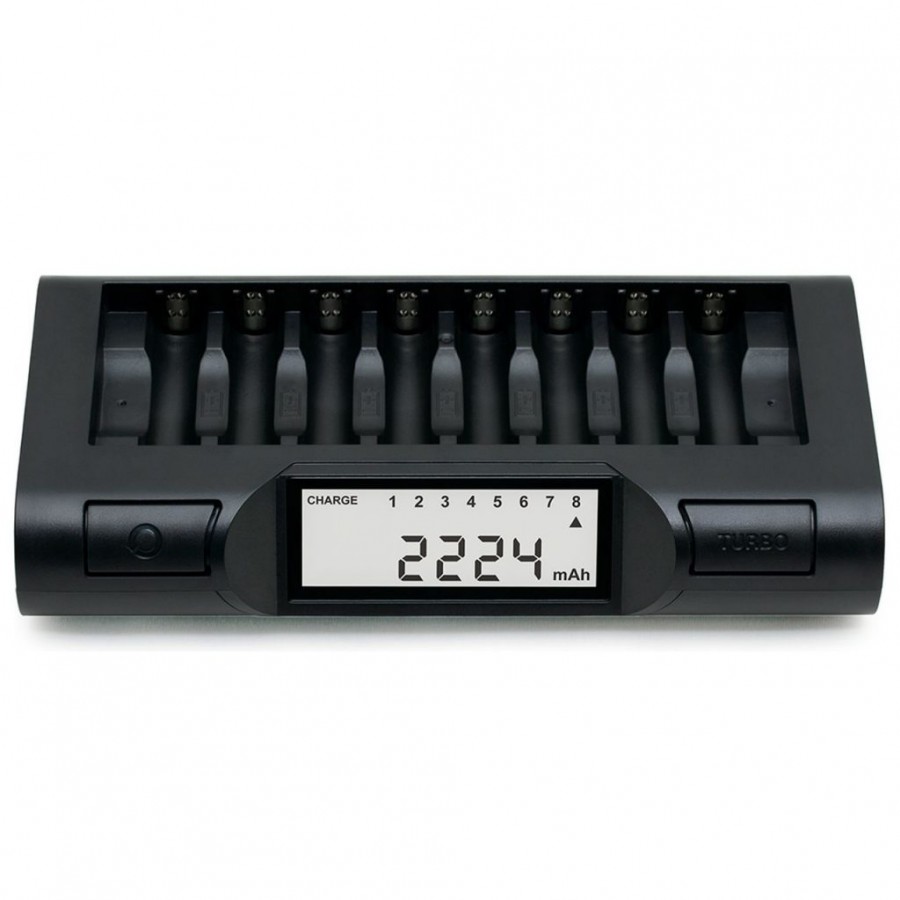 RAPID 1-HOUR CHARGER-ANALYZER FOR 8 AA AND AAA RECHARGEABLE BATTERIES …
The MH-C980 is a charger that can charge and/or test up to 8 AA or AAA rechargeable batteries. It incorporates individual management of the load banks and its screen shows numerical information with data for each battery. It is a fast and robust charger designed for professional environments.


8 independent slots for AA, AAA batteries.
Numerical LCD display.
Microprocessor controlled.
3 Programs: Fast, Slow Charge and Battery Rejuvenation




Charger and Analyzer.


The Powerex MH-C980 charger is the best combination of an 8-bank charger with tools to analyze battery health. A single touch of the dedicated button activates the condition and analyze mode that provides accurate battery information. With another dedicated button we activate the turbo charging mode.


8 independent load banks
Individual control of the state of charge in each of its 8 banks. Allows simultaneous charging of batteries of different brands, sizes and state of charge. As the batteries are charged "DONE" will be displayed on the screen.


Numerical LCD display
The POWEREX MH-C980 charger incorporates an LCD screen that will keep you informed of the charge status of each of the 8 rechargeable batteries in the different modes (turbo charge, slow charge and conditioning).


Choose between default charging or Turbo mode.


Hurry? Activate turbo mode and in less than 1 hour your batteries will be ready *.
Do you have time? Choose the standard charge and you will charge your batteries in 2 hours *.
* The charging times are indicative and depend on the state, capacity and charge level of the batteries.


Refresh and analyzed mode.


The Refresh and analyze (or conditioning) mode that the charger incorporates applies an automatic cycle of charging, deep discharging and recharging, which eliminates the memory effect and puts your rechargeable batteries back in shape, showing the result on the LCD screen.


SPECS
Battery type: NiMH rechargeable batteries
Sizes: AA and AAA batteries
Number of simultaneous batteries: 8 batteries with independent charge control
Turbo Charge Current: 2000 mA (AA), 1000 mA (AAA)
Standard Load Current: 1000 mA (AA), 500 mA (AAA)
Turbo charging time: About 1 hour*
Standard charging time: About 2 hours *
Charging Time Conditioning: Up to 16 hours**
Power supply: AC 100-240V 50/60Hz international adapter
* Charging times vary depending on the brand, capacity and condition of the batteries to be charged and may be shorter.
** The conditioning time depends on the capacity of the battery and its condition and may be less.
Powerex MH-C980 charger