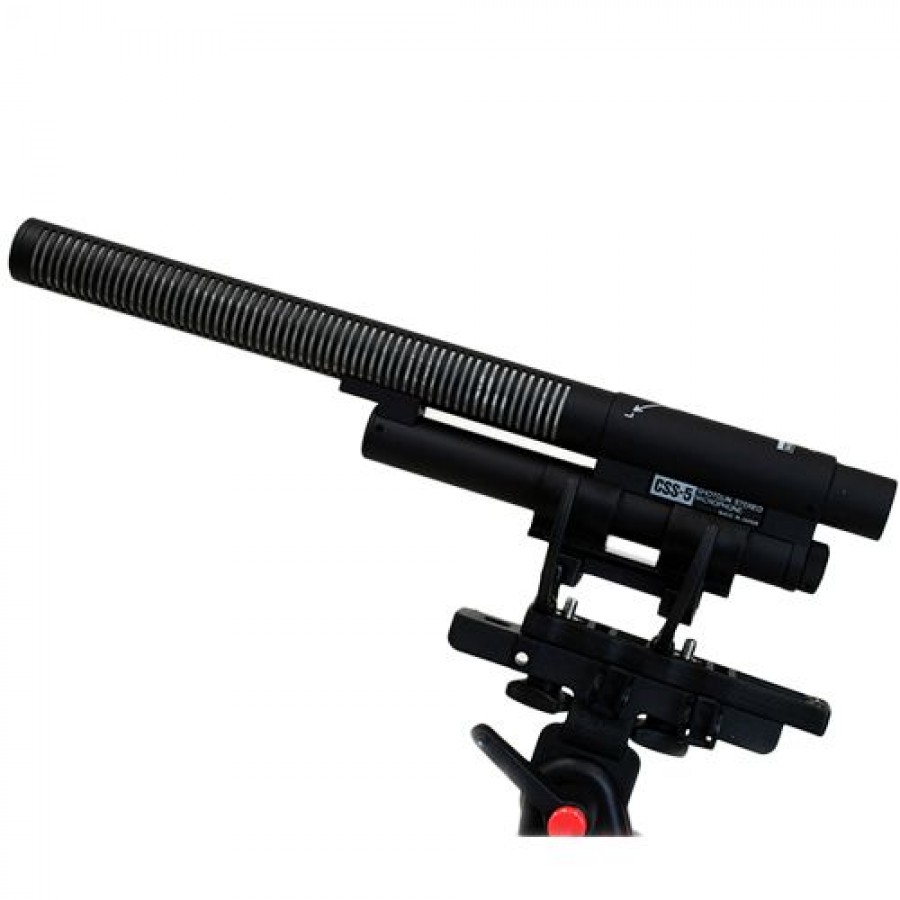 Developed in collaboration with NHK, Nippon Hosso Kyokai, the public body of Japanese radio-television, the CSS-5 is as sensitive in vertical and horizontal planes, with high sensitivity, wide frequency response and excellent dynamic range.
In television series, movie or video documentaries, and large telecast events, it becomes necessary to record exactly the target sound, with the added option of capturing real stereo perspectives. In many cases, multi-microphone setups hinder live mobility and sound coherence.
Stereophonic locations mainly depend on signal precision and channel spacing in the 400 Hz to 3 kHz frequency range. Features control has been optimized in this range. The response to very high and very low frequencies has been optimized along the front axis, so that the axial target sounds are clearly defined. The result during playback accentuates the front image, with side cues slightly behind.
Characteristics:
. Remarkable performance based on the arrangement of five (5) new directional capacitor elements with new polyphenylene sulfite diaphragms, "Poly Phenylene Sulfide", PPS, to provide optimum humidity and temperature stability,
. The second order pressure gradient based design allows for excellent directional response when using multiple cardioid elements in a successful straight line arrangement:
. three (3) directional capsules combine inline microphone performance with second order gradient response in a single system,
. the very high directivity thus obtained gives rise to a microphone of less than 30 cm in length,
. with 3 switchable modes to meet the needs of live or studio recording:
. Normal: Clearly picks up on target sound as well as extra faithful stereo locations.
. Mono: High directivity is maintained over a wide frequency range for selected front sound sources, using the combination of a second gradient microphone and an inline microphone, and thus the CSS-5 captures the chosen sound source very clearly, even in a noisy environmental situation or in a space with prolonged reverberation,
. Wide: Designed for stereo recording of sound effects while dialogue will be dubbed later, given its 140º opening versus the 127º maximum of common MS microphones.
. offers great mono-stereo compatibility,
. Virtually eliminated proximity effect, strong maintained directivity and sonic characteristics independent of changes in distance between sources and microphone,
. Ø 19 mm, standard, with a wide range of accessories for enhanced performance and live mobility,
Mono-stereo compatibility:
In stereo recordings, the frequency response of the mono sum output often reveals interference or combined filters, caused by phase differences between the left, "L", and right, "R" signals. This situation does not occur in a single point recording, neither in XY nor in MS, but it does arise in stereo recordings with two (2) microphones, due to the difference in times corresponding to the different distances from the sound focus up to two (2) micros.
In the CSS-5 the in-line arrangement of the three (3) capsules, which allows a frontal capture, and their vertical arrangement along the same axis are the basis of the magnificent mono-stereo compatibility.
Overcoming the proximity effect:
When a conventional shotgun microphone is close to the sound source, the proximity effect results in boosting certain low frequencies and slightly hiding others. Some designs use this effect to reduce "surround" noise, but the microphone response varies greatly with the change in distance between source and microphone. This effect is more pronounced the higher the directivity.
However, the CSS-5 virtually eliminates the proximity effect and maintains strong directivity, while the sonic characteristics do not change for different distances between sources and microphone. This is a major advantage over all other directional microphones.
Sanken CSS-5 mono/ Stereo Shotgun Microphone