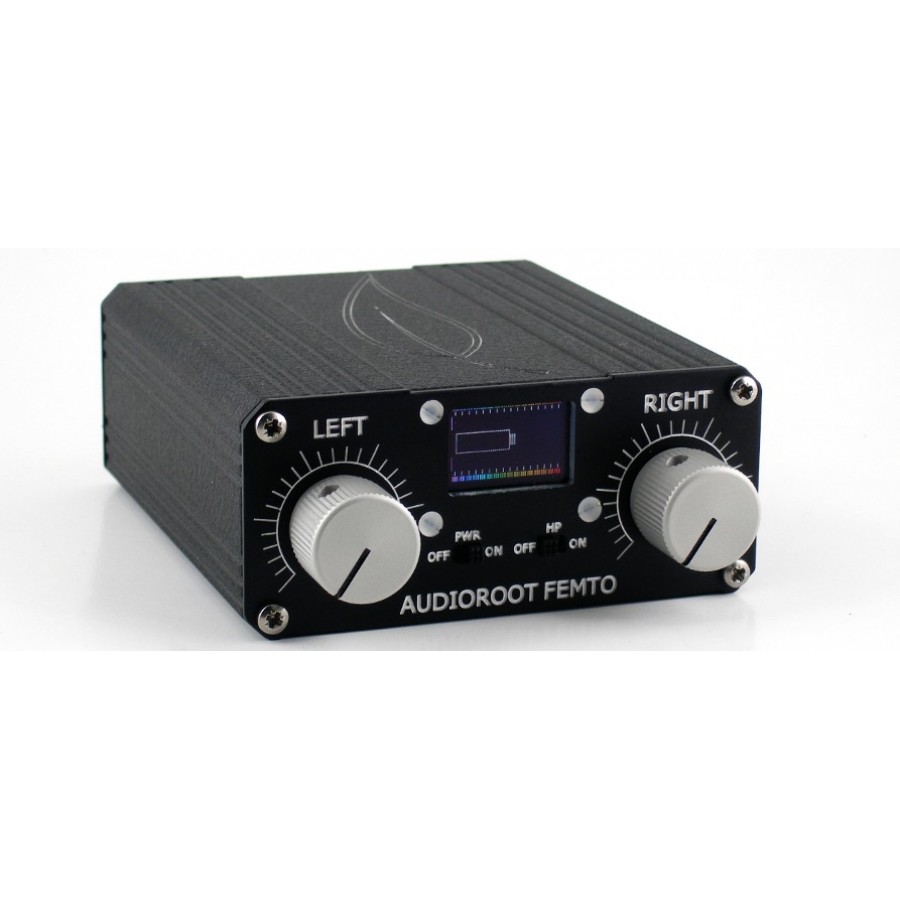 Dual high gain/low noise mic preamp (+10 to + 64dB)
48V phantom powering
80hz 12dB/oct high pass filter
Bright OLED screen (sunlight readable)
2 mic inputs on XLR3 connectors
Balanced line level output on XLR5 connector
High quality audio potentiometers
Superb powder coated and engraved aluminum enclosure
Lightweight – small footprint
Power efficient ( 6 hours autonomy with 2 Schoeps CMC64Ug)
The AUDIOROOT FEMTO is a high quality battery powered mic preamp that was designed for location sound recording ( ENG, EFP, music, etc…). It combines in a single box a high gain – low noise microphone preamp with 48V phantom powering, a 80hz 12dB/oct high pass filter and a beautiful OLED screen for audio and battery level information display. The FEMTO was designed to resist over time and against the harshest environments. The FEMTO's premium electronics are protected by a lightweight powder coated aluminum extruded enclosure. Markings are directly engraved on the aluminum face panels to resist over time. The AUDIOROOT FEMTO is a high gain mic preamp with a default minimum gain setting of +10dB.
Weight (without batteries) : 327g
Dimensions : 95 x 129 x 42mm (l x p x h)
Powering: 2 x 9V batteries (type 6LR61) or external (12-18V)
A balanced line output cable XLR5 -> 2 x TA3F) is included for every purchase of an Audioroot FEMTO
Recommended external 100-240V PSU (not included) : MEAN WELL GE12I18-P1J
AUDIOROOT FEMTO