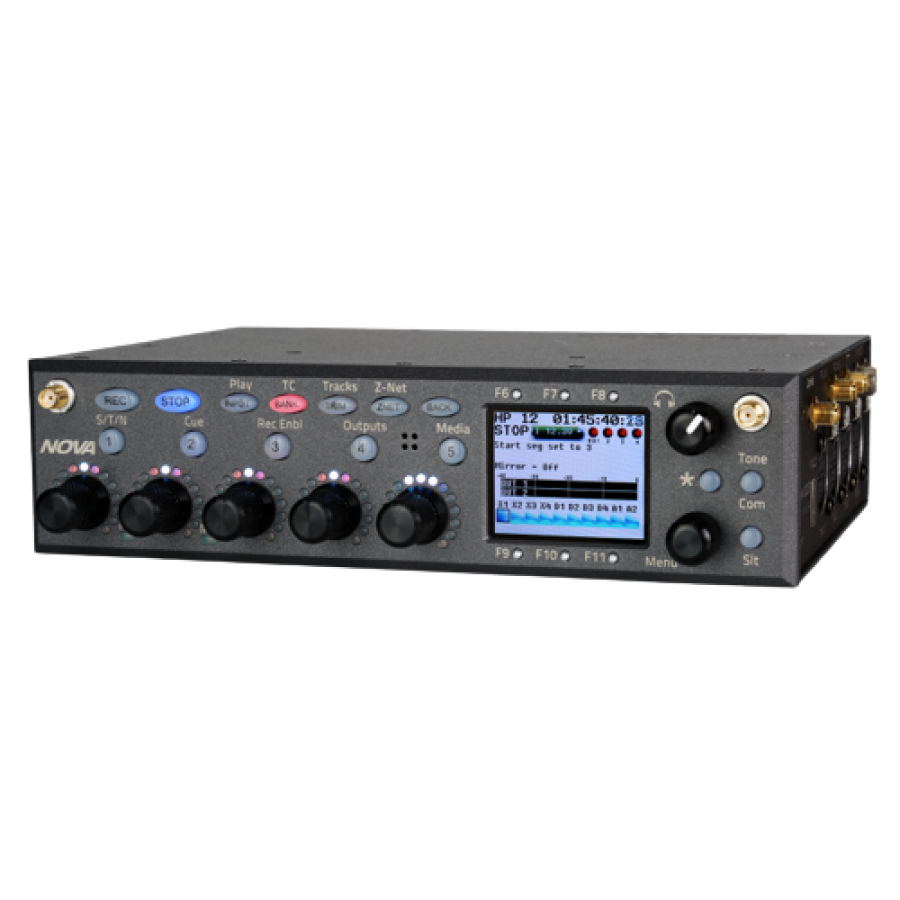 DESIGN
Nova is a complete sound solution that combines a mixer, a recorder, ZaxNet remote control and wireless receivers into one compact and lightweight device.
CONNECTIVITY
Nova features 4 XLR mic/line NeverClip inputs with 48V phantom power and 2 line level balanced inputs. 4 external AES inputs and 6 analog/AES output buses. 2 AES42 microphones can connect to the AES inputs. 4 channels of AES sample rate converting inputs can connect to external wireless receivers.
RECORDING
Nova can record up to 16 channels of audio with 24 bit depth. Sample rates include 44.1, 47.952, 48, 48.048 and 96. Audio can be recorded individually or simultaneously two compact flash cards. Files are recorded as MARF II, a lossless fault tolerant recording format to the internal drive or as Broadcast Wave files (BWF).
MIXING (PATENT PENDING)
5 high resolution infinity encoders with led indicators to indicate fader position and can display precise input audio level metering. The faders are user organized into 4 banks of 5 sources. Fader control, trim control and ZaxNet transmitter preamp gain are all accessed with the touch of a single button.
WIRELESS
There are two receiver slots for optional module receivers – MRX414, MRX214 or QRX212. When installed, all connections are made without external cables. Each MRX414 receiver module can receive audio from up to 4 separate transmitters for a total of 8 channels of wireless from 8 separate transmitters. The MRX214 and QRX212 can receive audio from up to 2 separate transmitters in mono or stereo mode for up to 8 channels of wireless audio from 4 transmitters total. These module receivers are the same ones used with the RX-12 and RX-12R and are interchangeable back and forth with the Nova.
The module receivers are fully integrated into the Nova. When a frequency is changed, both the receiver channel and the transmitters on the talent are changed at the same time. When frequency scans are initiated, all transmitters on talent are put in non-transmission mode so an accurate scan can be done. Once the scan is complete all transmitters and receivers can be assigned to clean frequencies instantly with the touch of a single button. The transmitters will automatically be enabled on the new frequency.
Full integration of Zaxcom Digital Recording Wireless with the Nova makes for a unique and powerful system. Track names from the recorder can be automatically sent to the backup recordings on the wireless transmitters for easy identification in post. As an alternative, transmitter names can automatically rename the ISO tracks of the recorder. The Nova's transport control can automatically control the recording on the bodypack transmitters so that there is a matching file on the transmitter for each recorded file on the Nova. Timecode is automatically jammed remotely on each recording transmitter without the need to jam with a hardwired cable.
Nova includes a 35 MHz tunable tracking front end filter for the wireless receivers. This filter allows for rejection of interfering sources like UHF walkie talkies.
INTERFACE
Nova's graphical user interface is intuitive and simple. All buttons and knobs are ergonomically spaced to eliminate accidental bumping of levels due to overcrowding of buttons and switches on the front panel. An LCD paired with 6 push buttons provides menu navigation.
ADVANCED FEATURES
ZaxNet remote control gives the ability to adjust frequency, preamp gain and output power on Zaxcom transmitters eliminating the need to approach talent.
Audition and Re-record allows for instant remix and recovery of dropouts due to RF transmission interruption.
POWER
Nova uses two power inputs for redundant operation. External power distribution is not necessary as no external hardware is needed when using the Nova.
ANALOG IN

Inputs: 4 Mic/line-level with 48V phantom power and 2 line-level
Connector: 4 x XLR-3F
Mic level input range: -56 to -26 dBu
Line level input range: -10 to +8 dB
Distortion: 0.0015%
ADC bit-depth: 24 bits
Dual ADC input dynamic range: 140 dB with NeverClip™
Clipping level: +28 dBu
Frequency response: 28 Hz to 22 kHz (48 kHz sampling-rate)
THD + noise: 0.0015%

ANALOG OUT

4 Balanced TA5 (6 bus) - 0dBu, -10dBu and -35dBu
Headphone: 1/4 inch stereo bus
Output level: 0 dBu @ -20 dBFS
Output Clipping level: +20 dBu
DAC Bit-depth: 24 Bits
DAC Dynamic Range: 115dB
Impedance: 30 ohm

DIGITAL IN / OUT

AES / AES42 In: 2 Pair (4 Channels)
AES Out: 3 Pair (6 Busses)
Connector: DB-15 mini (DE-15)
AES Sample rate conversion: 32-96 KHz

ZAXNET RF INTERFACE

2.4 Ghz Transmitter: 50mW output power
Frequency Range: 2.403 to 2.475 GHz
Modulation Type: Spread Spectrum
Bandwidth: 1MHz
Connector: SMA female

RECEIVER

Receiver module slots: 2
RF Connectors: 2 SMA
RF Impedance: 50 ohm
RF Amp Noise Figure: .5 dB
RF Amp IP3: +30 dB input
RF Filter Band Pass: 35 MHz
RF Tuning Range: 512 - 698 MHz

MRX414 MODULE

Receivers Per Module: 4
Receiver Modulation: Zaxcom Proprietary Digital
Tuning Range: 512 - 698 MHz (Must choose band - L, M or H)
Power Consumption: 300 mA @ 13 VDC
Size: 5" x 3" x .8" (L x W x H)
Weight: 7oz

MRX214 MODULE

Receivers Per Module: 2
Receiver Modulation: Zaxcom Proprietary Digital
Tuning Range: 512 - 698 MHz (Must choose band - L, M or H)
Power Consumption: 160 mA @ 13 VDC
Size: 5" x 3" x .8" (L x W x H)
Weight: 7oz

QRX212 MODULE

Receivers Channels Per Module: 2
Receiver Modulation: Zaxcom Proprietary Digital
Tuning Range: 512 - 698 MHz
Power Consumption: 200 ma @ 12 VDC
Size: 5" x 3" x .8" (L x W x H)

RECORDING

Track count: 12
Bit-depth: 24 bits
Sample rates (kHz): 44.1, 47.952, 48, 48.048
Head room: 20 to 44 dB
Format: MARF II, .BWF
Max Pre-record duration: 10 seconds

DATA STORAGE

Internal: Dual Compact Flash
Mixer Type: 32 bit floating point DSP
A-D / D-A resolution: 24 bit

EFFECTS

Delay: 0 to 60 mS in .1mS steps
Notch filter: 2 band, 20 Hz to 20 kHz frequency range adjustable
Compressor type: soft knee with side chain
High Pass Filter: 20 Hz to 230 Hz

TIMECODE READER/GENERATOR

Timecode type: SMPTE
Connector: BNC
Input Voltage: 1-4VPP
Output Voltage: 2VPP
Clock Accuracy: 1.54 PPM
Timecode Frame-rates: 23.98, 24, 25, 29.97NDF, 29.97DF, 30NDF, 30DF

POWER

External: 8 to 18 VDC
External Power: 8 to 18 VDC (12V @300mA)
Power Connecter: Hirose
Battery Meter: Yes, on LCD display

PHYSICAL

Size (H x W x D) 2.0″ x 8.25″ x 6.0″
Weight: 2 lbs. 9 oz without modules / 3 lbs. 7 oz loaded with 2 x modules

MISC.

Tone Level Selectable: -12 to -20 dB FS
Display: Full color sunlight readable LCD
Meters: Output / Input / Card
Slate Mic: Internal / External
ZAXCOM NOVA