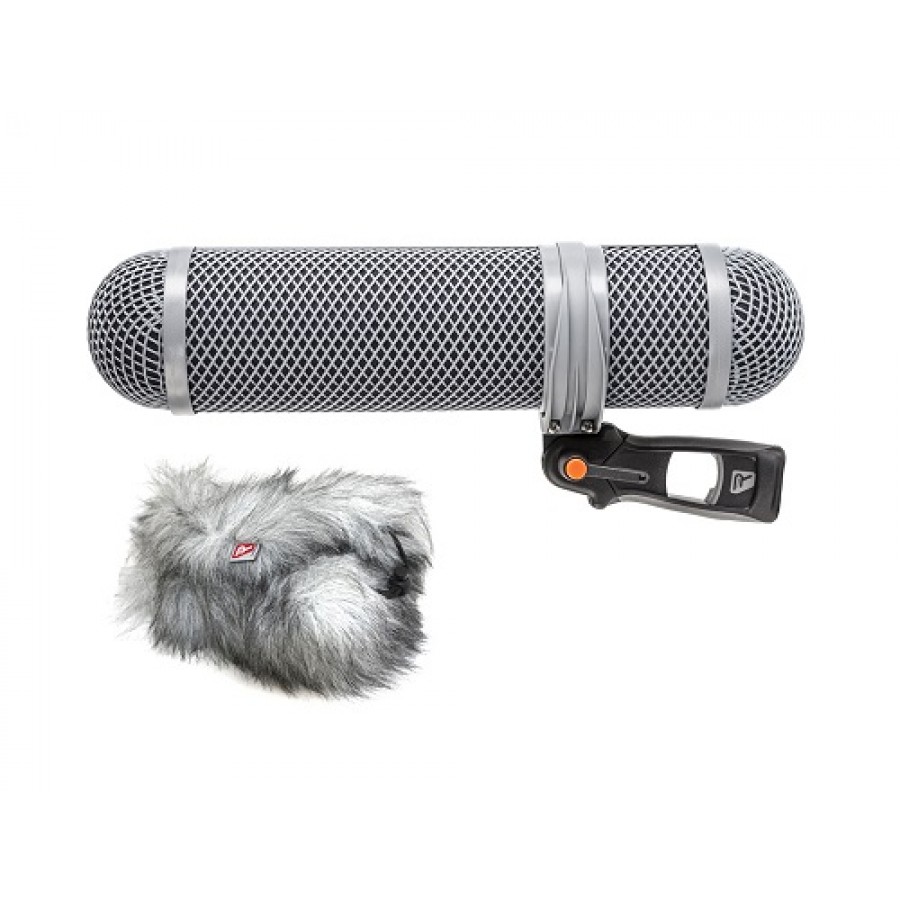 The Rycote Super-Shield is a lightweight, aerodynamic and ultra-robust windshield system providing professional performance and versatility via a simple to use, "no-frills" design. The central chassis of the Super-Shield supports a range of "pods" in lengths to fit almost all location-style microphones and provides for great aerodynamic balance and adjustment of centre-of-mass balance. The integral shockmount equipped with our patented Lyre technology isolates the microphone, and together with a captive mic tail cable, significantly minimizes handling noise. The pods have a quick twist-lock fixing to allow easy access to the microphone.
Super-Shield uses the same laminated fabric as our industry standard Modular System to cover the pods. This minimizes acoustic insertion loss and provides almost perfect transparency with effective calming of wind noise. An fur Windjammer is supplied to give superior performance in the highest wind velocities.
The Super-Shield comes in Small, Medium and Large complete Kits ready to use out of the box. Each Kit includes Lyre Suspension with PG Handle, (2) Pods, XLR-3 Mic Tail and fur Windjammer. Additional pods can be purchased to suit a variety of microphones for the utmost in usability and versatility.
Small Kit: Suitable for Sanken CS-‐1, Schoeps CMC & CMC+Cut1, Sennheiser MKH 40, MKH 50 & MKH 8060
Medium Kit: Suitable for Audio-Technica AT4073 & BP4073, DPA 4017b & 4017c, Rode NTG-3 & NTG-1, Neumann KMR-81i, Sanken CS-2, Schoeps CMIT-5u, Sennheiser MKH 416, Shure VP82 & VP89S, Sony ECM678
Large Kit: Suitable for Røde NTG-2, Sanken CS-3e, Sennheiser ME66/K6 & MKH 60
Contents of each Kit:
Suspension, fitted with pair of 72-shore 19/25mm Lyres
Neutrik XLR 3-pin cable (450mm)
Windshield, front & rear pods
Windjammer, Rycote hair brush
Rycote Super-Shield