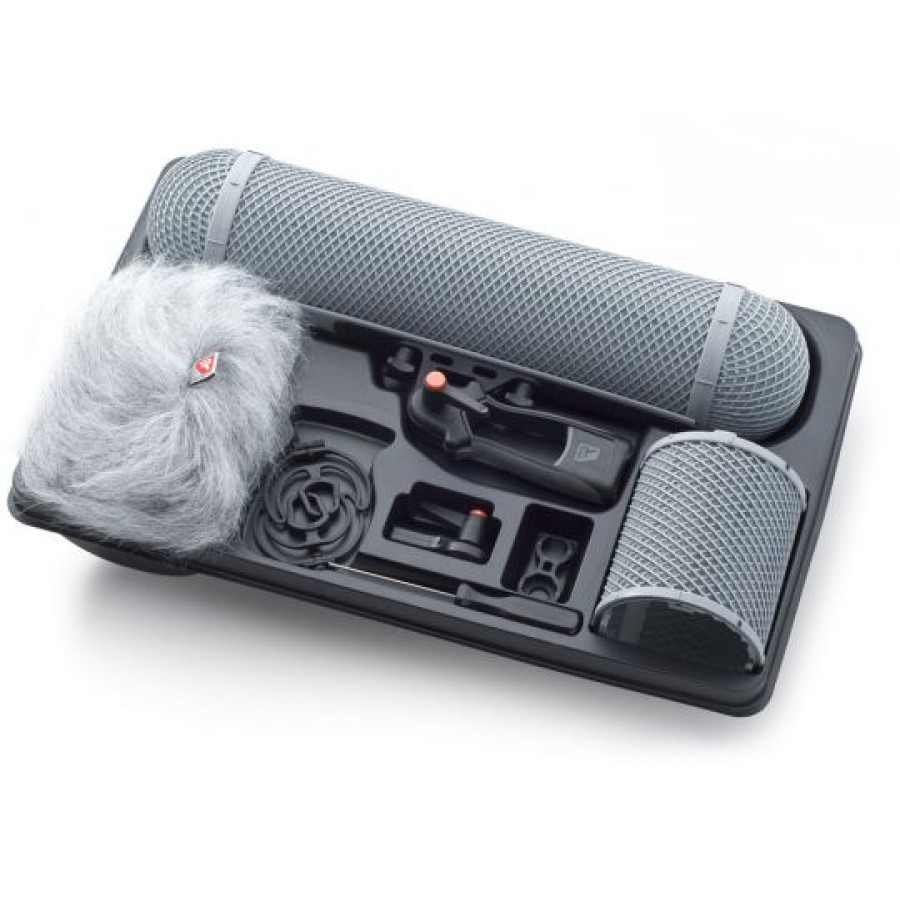 Full Windshield System
The full windshield system is made up of the following elements:
Modular Suspension (shock mount)
Modular Windshield (windscreen, blimp or zeppelin)
Windjammer (furry cover)

Modular Suspension - NEW!!
The Modular Suspension provides isolation against handling & cable-borne noise, and completely supports the microphone in a cradle arrangement. The suspension can be used as it comes, with a microphone using a foam gag, or in conjunction with a Windshield & Windjammer. From September 2008, the suspension uses our patented "lyre" suspension webs as previously launched on the S-series & InVision ranges. On selected models of suspensions, a Connbox is fitted as standard to reduce cable-borne noise.
Modular Windshield or Windscreen
Launched in March 2004 the Modular Windshield (zeppelin) is slid onto the Modular Suspension, and completely surrounds the microphone amp; its connector. It protects the microphone from the effects of wind, whilst causing the minimal effect to the sound.
Windjammer
Also launched with the new Modular Windshield system the Windjammer is designed to fit over the Windshield to provide the highest possible protection against extreme wind.
Modular Windshield Kit - NEW!!!
All sizes of the new Modular Windshields are available as a complete kit. Within the kit you get a Modular Suspension with lyres & Connbox, Modular Windshield & Windjammer.
Windshield Kit
Order Code
Modular
Suspension
Lyre Colour
Connbox
Modular
Windshield
Extension
Windjammer

Windshield 1 Kit

086004

Small

Black

CB 1

WS 1 (170mm)

No

WJ 1

Windshield 2 Kit

086003

Small

Black

CB 1

WS 2 (210mm)

No

WJ 2

Windshield 3 Kit

086002

Small

Black

CB 1

WS 3 (260mm)

No

WJ 3

Windshield 4 Kit

086001

Medium

Black

CB 1

WS 4 (330mm)

No

WJ 4

Windshield 5 Kit

086005

Medium

Black

CB 1

WS 4 (330mm)

EXT 1 ( 70mm)

WJ 5

Windshield 6 Kit

086006

Medium

Black

CB 1

WS 4 (330mm)

EXT 2 (120mm)

WJ 6

Windshield 7 Kit
086007
Large
Grey
See Note
WS 4 (330mm)
EXT 3 (170mm)
WJ 7
Windshield 8 Kit
086008
Large
Grey
See Note
WS 4 (330mm)
EXT 4 (260mm)
WJ 8
Rycote Full Windshield 8 Kit Large with WS4 and WJ8