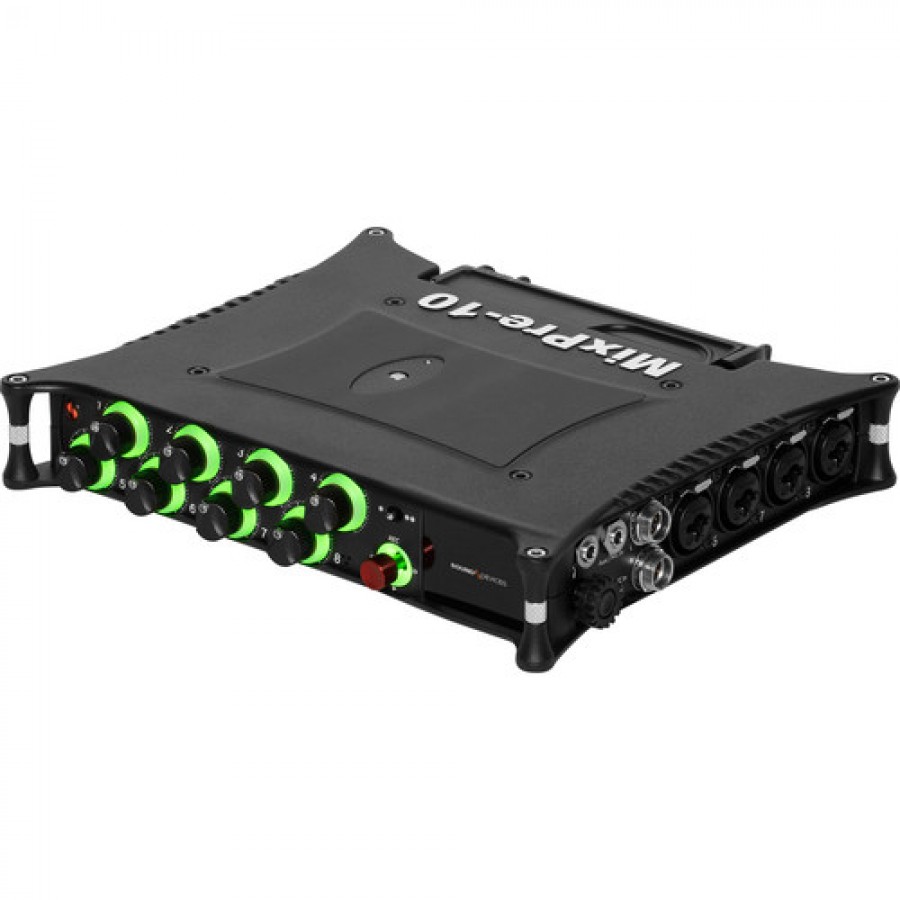 The World's Smallest 10-Input/12-Track Recorder The MixPre-10T is the newest member of the groundbreaking MixPre Series of recorders, mixers and USB audio interfaces. This lightweight, 10-input/12-track recorder offers world-class sound quality, flexible powering and built-in, highly accurate timecode generator/reader - perfect for production sound mixers, field recordists and sound designers. Exceptional Audio Quality The MixPre-10T features eight Sound Devices' Kashmir microphone preamps. These high-performance, ultra-low-noise, discrete, Class-A mic preamps were handcrafted by Sound Devices. The Kashmir mic preamps feature a -130dBV noise floor, analog limiters and new 32-bit A-to-D converters to ensure the highest quality audio recordings that far surpass those of other recorders using simple off-the-shelf, IC-based mic preamps. Accurate Timecode Generator/Reader Plus Word Clock As its name suggests, the MixPre-10T features a built-in, ultra-high accuracy timecode generator and reader. Even when turned off or all power is removed, the MixPre-10T continues to hold accurate timecode for hours, more than long enough even for the most extended lunch break (or break in production)! With its multiple timecode connections, all common frame rates and timecode modes are supported as well as the ability to lock to or output word clock, ideal for synchronization in any digital audio environment. Versatile I/O Routing.

New
32-bit float USB audio streaming. Requires Mac OS Catalina (version 10.15+) and an application that supports 32-bit float. Find out if your application of choice supports 32-bit float audio streaming here.
(MixPre II Series only)
Fixed
MixAssist can now be enabled during Playback with ReMix on.
(MixPre-3, MixPre-6, MixPre-10T, MixPre-3 II, MixPre-6 II, MixPre-10 II)
HDMI record triggers no longer create several recordings if the cable was connected while the camera was actively recording.
(MixPre-3, MixPre-6, MixPre-3 II, MixPre-6 II)
Various system enhancements and improvements.
An ASIO® driver (v) for the MixPre Series by Ploytec is now available for download.
With USB Audio Class 1 devices — that is, Windows-based computers without an ASIO driver — the MixPre Series audio recorders are capable of sending two channels of audio (L, R) and receiving two channels of audio via USB to/from the computer.
This software driver adds ASIO support in Windows OS for the MixPre-6 and/or MixPre-3. With the ASIO driver installed, Windows-based computers become USB Audio Class 2 devices, which means the MixPre-6 can send eight channels (1-6, L, R) to the computer and receive four channels from the computer via USB, while the MixPre-3 can send five in and receive two out. The ASIO driver for the MixPre Series allows for low-latency operation and max sample rate for USB audio up to 96 kHz on Windows computers. This driver supports Windows 7 and later, both 32- and 64-bit versions.
Technical Specifications
Sound Devices MixPre-10T Multi-Channel 10-Input/12-Track Audio Recorder with Timecode

Frequency Response: 10Hz to 80kHz +/- 0.5dB re 1kHz at 192kHz sample rate

THD + Noise: 0.005% max (At 1kHz, 22-22kHz BW, gain=20dB, -10dBu in)

ADC: 32 bit precision; 120dB dynamic range min (A-weighted, gain=10dB, fader=0dB)

Equivalent Input Noise: -130dBV (-128dBu) max (A-weighting, gain=76dB, 150 Ohms source impedance)
| | |
| --- | --- |
| Product Dimensions | 6.9 x 8.1 x 1.4 inches |
| Item Weight | 3.53 pounds |
| Shipping Weight | 3.68 pounds |
Sound Devices MixPre-10T (Second Hand)