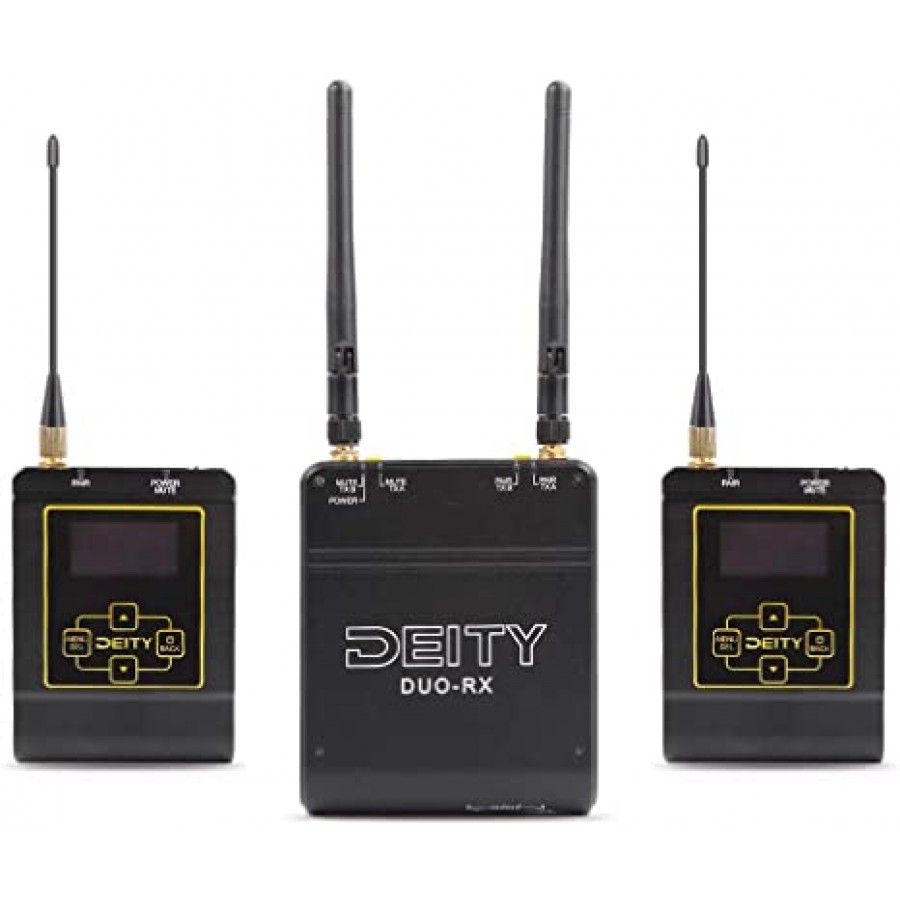 *The price for Rental Items is for one day, please email (info@soundonseteurope.com) or call us (910 852 404) for rental inquiries.



The Deity Connect Deluxe Kit
Is The Ultimate Bundle In Digital Wireless. Remote Control Either Of The Included BP-TRX Units From The DUO-RX. Never Worry About Audio Interference Ever Again Thanks To Having A Backup Recorder In The Transmitter.
Deity BP-TRX
The BP-TRX is the next evolution in 2.4GHz digital wireless microphones systems. Using its bi-directional transceiver radio, the BP-TRX can be used as body pack transmitter or as a single channel wireless receiver with special receiver modes to act as a wireless IEM system for directors and producers or as a camera hop.
The BP-TRX features an on-board timecode audio recorder. It can jam to external timecode or generate and output its own. With its ability to transmit and record at the same time, you will never have to worry about missing audio due to wireless interference ever again. The on-board analog limiter also prevents audio from clipping.

The BP-TRX is an easy way to record yourself without having to worry about if your audio is distorted or if you're getting dropped signals from a traditional wireless system.

The ideal user of the BP-TRX is the videographer who wants the benefits of a lavalier microphone and the freedom of wireless but without the headache of managing RF signals.

This is a great pocket recorder that has a long battery life and with the use of a large MicroSD card make it ideal for wedding filmmakers. The metal build will hold up to the massive amount of wear and tear users will put on their gear.
Deity DUO-RXA Dual Receiver
We dreamed of creating a wireless microphone system that solved everyday problems. We wanted to solve problems like sound checks, adjustments, ergonomics, weight, and single-use battery e-waste.
Twin True Diversity antenna arrays for a Quad Antenna setup

Internal 10hr Lithium battery

USB-C rechargeable

Dual Isolated Channels

Sound Bag / DSLR friendly ergonomics

Weighs about the same as a smartphone

Remote controls every audio adjustment on each transmitter

Dual SMA elbow antennas

Three Output Modes (XLR, DSLR, and Stereo)

Updatable Firmware

Home screen displays the transmitter's battery life

Live VU meter monitoring

Output B can be turned into a headphone jack

Encrypted 24-Bit / 48 kHz Transmission

OLED Screens, Limiters, RF Adjustment

Includes Accessories & Waterproof Case

Expands up to 4 Mics at Once/328' Range
Included In The Box:
2x Deity BP-TRX

Deity DUO-RX

2x XLR – 3.5mm Cables

2x W.Lav Pro Lavaliers

2x Type-C Charging & Data cables

Time code Sync & Audio Cable

2x BP-TRX External Antenna

2x DUO-RX Antenna

USB-C to USB-A Firmware Update Adapter

Cold Shoe Mount

Locking TRS to TRS Coiled Audio Cable

Sync Cable

Manual and Warranty Card




SD Compatibility List

Samsung Evo+ 32GB Micro SDHC class 10 - met adapter

SanDisk micro-SDHC-kaart Ultra 32 GB UHS-1

Maginon 32GB Class 10 Micro SD HC

Kingston microSDXC Canvas Select Plus 64GB 100 MB/s + SD adapter

ADATA Premier Micro SDHC UHS-I U1 Class10

KIngston 128GB Micro SDXC Class 10 UHS-I 45R

PNY MicroSDHC Pro Elite 64GB 100MB/s

SanDisk MicroSDHC Ultra 32GB 120 MB/s CL10 A1 UHS-1 + SD Ada

Verbatim microSDXC 64GB Class 10 incl Adapter

Transcend 300S flashgeheugen 32 GB MicroSDHC NAND Klasse 10

Samsung microSDXC EVO+ 64 GB 100MB/s CL 10 + SD adapter

Emtec microSD Class10 Gold+ 16GB flashgeheugen

Hoco TF high-speed geheugenkaart micro-SD 32GB

Youe Shone® MicroSD SDHC 32GB Class 10
DEITY CONNECT Deluxe Kit (RENTAL)